I'm back! And courtesy of
jackscarab
's
big honking recap
, I have a pic of my cosplay from this year's Otakon !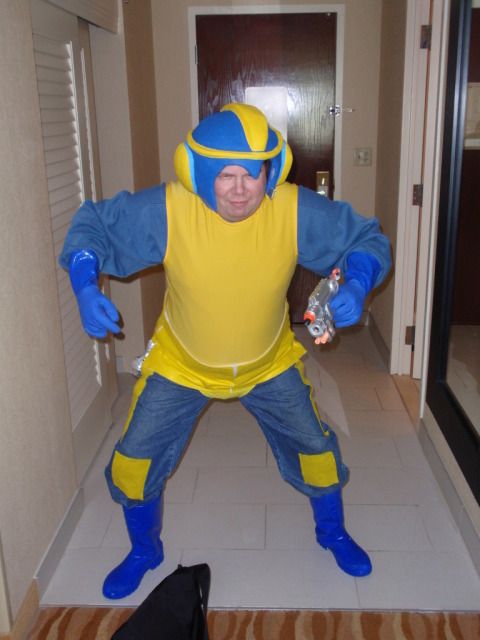 Ta-da!
Felt weird this year, to be honest. The whole event was just so... fleeting. Not having a panel to host will do that, I suppose, as previous years felt like they were built around the entire OtaRockman experience, and this year... well, there just wasn't really much of an OtaRockman. There was the cosplay gathering, which itself somehow felt smaller than in previous years, and that was well and truly
it
.
On the bright side, things seemed to have a more relaxed tone. And yet, like an idiot, I'm going to submit a new panel for next year once registration opens... and no, it's not going to be about
Mega Man
. Costume-wise, I'm returning to
Movie Mario
for the film's 20th anniversary.
The only downside is that I don't think I had nearly as many pics taken of me as Movie Mario as I did Bad Box Art Mega Man, which proved amazingly popular (to me). And yet, ironically-- with the exception of friends-- finding pics of either online has been all but impossible, with me finding two of BBA Mega Man only after a LOT of searching on Tumblr-- and one was just my backside as I was posing for a different photo opposite the photographer of the picture.
On that note, if you see any more pics of me (in either costume) around, please let me know! I'd love to see them, and what people are saying about them.
--LBD "Nytetrayn"